All is quiet in the NFL as players and fans enjoy summer beach trips and backyard barbeques. In a hectic offseason, the Jets signed nine outside free agents and selected seven players in the draft. But training camp is just around the corner; rookies reported on July 19th, and veterans will report on July 26th. New York could potentially have more than 30% of its roster new to Gang Green.
This series of articles will look at the Jets' position groups, how they compare to last season and what to expect in 2022. Review the first three articles: tight ends, offensive line, and running backs. Next, we will look at a position the Jets have spent a ton of resources on since general manager Joe Douglas arrived at Florham Park. Douglas has used three draft picks and signed a veteran pass catcher during his time with the Jets. This group has a chance to grow with second-year quarterback Zack Wilson and become an exciting part of the Jets' offensive attack.
First, let's look at last season's group.
The 2021 Jets' Wide Receivers
| | | | | | | | | | |
| --- | --- | --- | --- | --- | --- | --- | --- | --- | --- |
| | TGT | REC | YDS | YAC | YAC/REC | TD | DRPS | MTF | RTG |
| J. Crowder | 71 | 51 | 447 | 175 | 3.4 | 2 | 2 | 7 | 80.8 |
| B. Berrios | 60 | 46 | 431 | 256 | 5.6 | 2 | 1 | 2 | 100.1 |
| E. Moore | 74 | 43 | 538 | 204 | 4.7 | 5 | 2 | 5 | 80.8 |
| C Davis | 59 | 34 | 492 | 117 | 3.4 | 4 | 6 | 7 | 72.1 |
| K. Cole | 49 | 28 | 449 | 84 | 3.0 | 1 | 1 | 0 | 60.7 |
| J. Smith | 16 | 8 | 113 | 12 | 1.5 | 0 | 2 | 0 | 73.2 |
| D. Mims | 19 | 8 | 133 | 38 | 4.8 | 0 | 2 | 1 | 66.3 |
Injuries were a big storyline for the Jets in 2021. According to Football Outsiders, New York ranked 31st in adjusted games lost last season, and the wide receiver room was not immune to the injury bug. They had the seventh most injured receiving corps in the NFL. Last season's big free agent acquisition at wide receiver, Corey Davis, played just nine games, rookie Elijah Moore missed six games, and Jamison Crowder missed five. Braxton Berrios and Keelan Cole were the Jets leading receivers in the last three games of the season.
Davis comes to New York and disappoints.
The former Tennessee Titans first-round pick joined the Jets after spending his first four seasons in the Volunteer State. Davis signed a three-year, $37.5 million contract with $27 million in guarantees. New York expected Davis to be a veteran pass catcher that rookie quarterback Zach Wilson could depend on as he navigated his first season in the NFL. Instead, Davis had arguably his worst season as a pro. His 34 catches were his lowest total since his rookie season, and his drop percentage was more than double any previous season.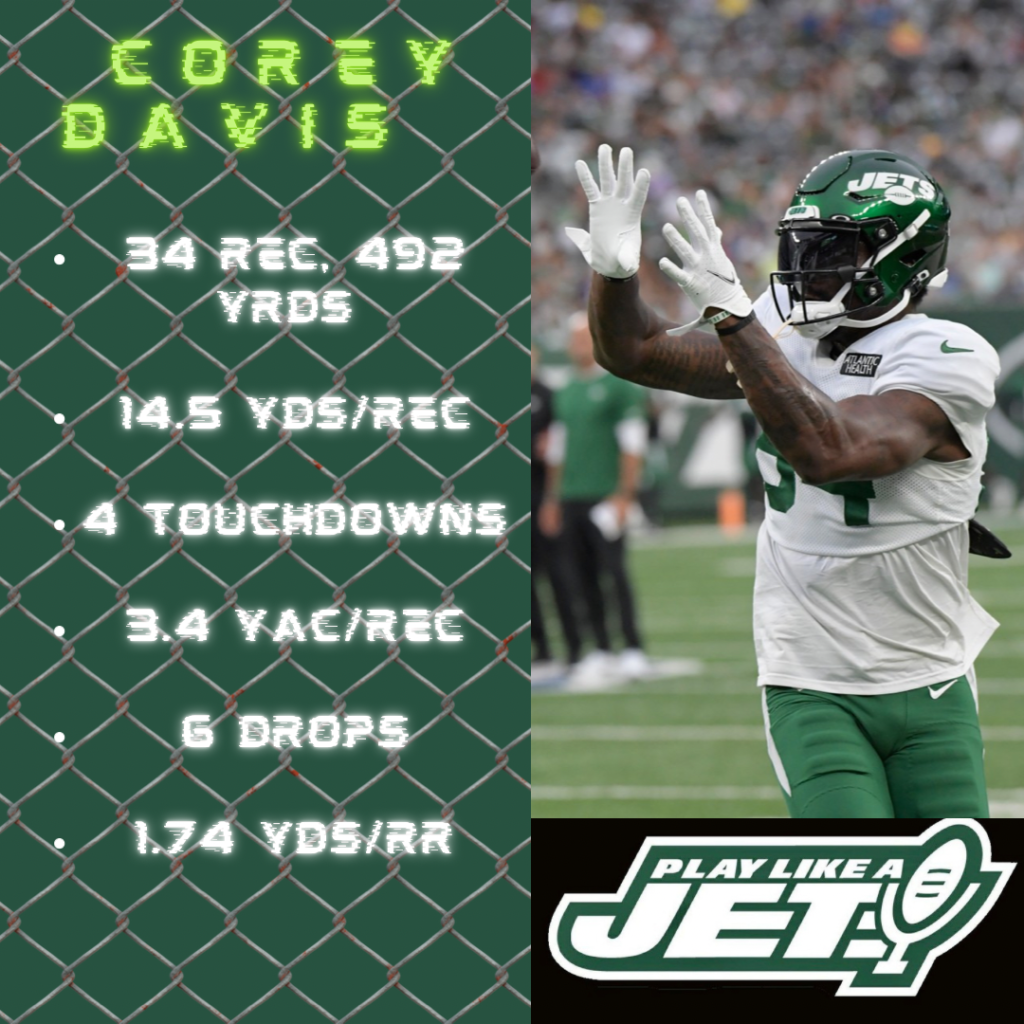 Davis' 2021 season was cut short by injury, but most of his per-game averages were in line with his time in Tennessee. During his four years with the Titans, Davis averaged 3.7 catches per game for 50.9 yards. Last season with the Jets, he averaged 3.7 catches for 54.7 yards per game. The issue with Davis during his first season in New York, aside from injuries, was dropped passes. In just nine games, he set a career-high with six. Davis had never had more than four in any season of his career. His 15.0 drop percentage was the second worst in the NFL in 2021. He had never had a season with a drop percentage higher than 5.8.
It is probably safe to assume that Davis's drops will deviate back to his career averages, but his role with New York may change slightly. The former Western Michigan Bronco was brought in as a number one target after playing second fiddle to A.J. Brown during his last two seasons as a Titan. After the Jets drafted Moore in the second round last year, a similar scenario is set to play out in 2022.
New York may have found their WR 1.
The Jets drafted Moore with the 34th pick of the 2021 draft. The 5-foot-9-inch pass catcher finished third among rookie receivers and 34th among all pass catchers, with an average of 1.75 yards per route run (Y/RR). Not bad, but a deeper look into the numbers shows that maybe Wilson and Moore were not always on the same page. Moore broke out during the four games Wilson missed (weeks 8, 9, 10, and 11). His 2.92 Y/RR was fourth best during that span. His 336 receiving yards were fifth-most among all receivers. Only Stefon Diggs had as many touchdowns as Moore with four.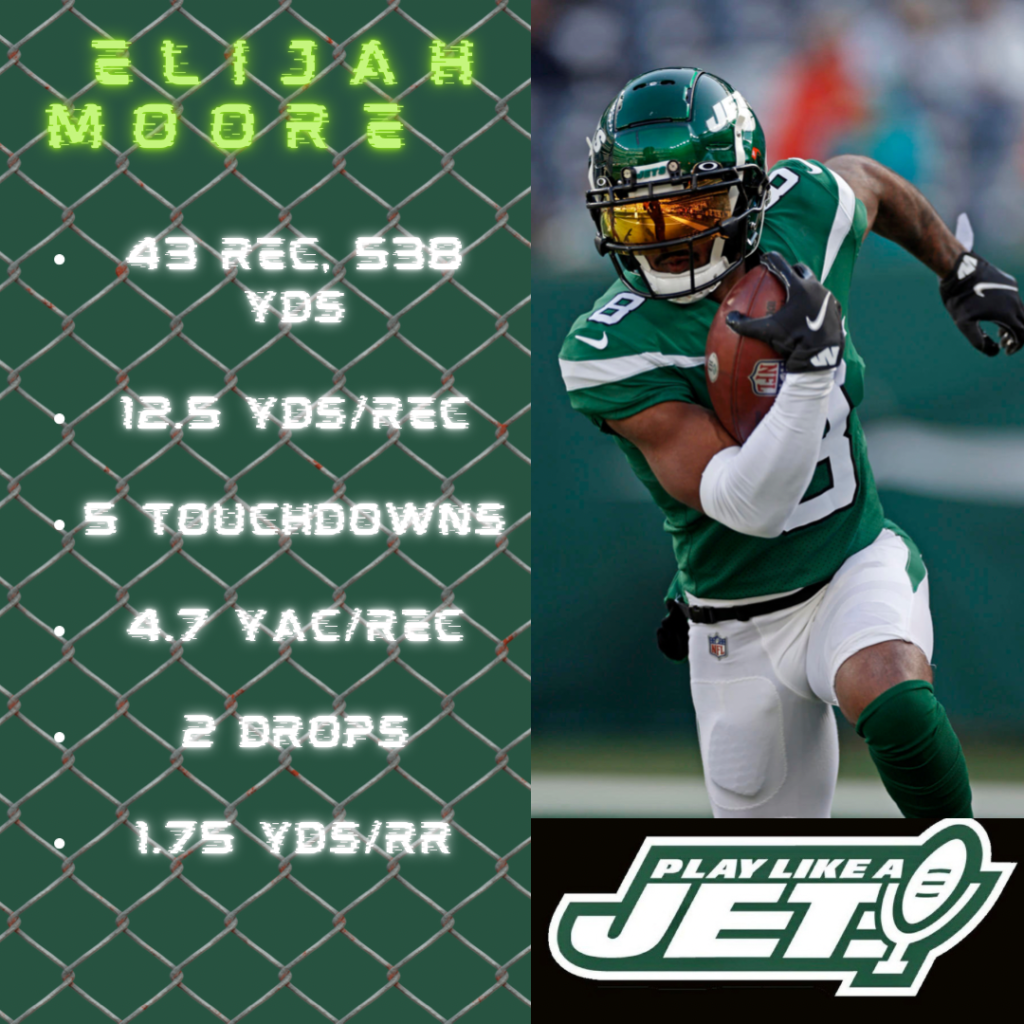 Wilson returned from injury in week 12, and he and Moore would only play two games together the rest of the season, with Moore going down with an injury. In his first six games of the season, Moore tallied just nine catches for 79 yards with 0.60 Y/RR. In his final two games of his rookie year with Wilson back from injury, Moore hauled in 10 balls for 123 yards and 1.98 Y/RR.
Hopefully the early part of the season, Wilson and Moore were taking their rookie lumps together. Moore showed some major flashes from weeks eight through 13. During those six weeks, he had a higher Y/RR (2.59) than Davante Adams, Brown, and Diggs. He had more catches (34) than Diggs and Adam Thielen. And more touchdowns (5) than Justin Jefferson and Keenan Allen. Before Moore's season was cut short, it appeared he had arrived. He needs to build on that while staying healthy in 2022. Moore has the potential to be a star and be Wilson's go-to receiver, starting this year.
Jets bring back one of their own
Fan favorite All-Pro kick returner Berrios signed a two-year $12 million contract during the off-season. The deal includes $7 million in guarantees. Not only is Berrios a solid fourth receiver, excellent kick returner, and gadget guy, he is an integral part of the Jets locker room. Berrios finished the season with 46 receptions for 431 yards and just one drop all season. It was important for the Jets to bring back the former Miami Hurricane.
From Columbus to New York
Douglas realized the importance of surrounding Wilson with as many weapons as possible, and he tried to add a veteran receiver. He tried to trade for Tyreek Hill and Calvin Ridley, ultimately coming up short. So he turned to the NFL draft and selected Garrett Wilson with the tenth overall pick. The 6-foot, 183-pound junior with 4.38 speed is the third premium pick Douglas has used on a wide receiver since taking over as GM. Wilson had 70 receptions for 1,058 yards and 12 touchdowns in his final season at Ohio State.
When evaluating receivers during the draft process, it is essential to look at three phases, before the catch, at the point of the catch, and after the catch. Kyle Crabbs of the Draft Network had this to say about Wilson's route running:
It is easy to be impressed with the snap Wilson showcases on the route step when he's charged with working back down to the LOS and converting his vertical push on comeback routes. He does showcase a high-level amount of burst at the top of his rounded breaks, too—on-time throws against soft coverage (which he's seen a lot of in college) should be routine pitch and catch opportunities. He's comfortable working in traffic and across the middle of the field, but Wilson often gets his looks on quick throws on the perimeter and isn't a consistent threat in the vertical game as a downfield target despite a strong 40-time at the NFL Combine

-Kyle Crabbs
In the next phase of the evaluation, the point of the catch is an area that is a mixed bag for Wilson. While he can jump up and catch the ball in traffic, he lacks the strength to win contested catches. Wilson hauled in just eight contest catches in 2021, 105th in college football.
After the catch is where Wilson excels. He had 19 missed forced tackles, good for 15th best among college football wide receivers in 2021. According to Sharp Football Analysis, the former Buckeye pass catcher generated 22% more yards after the catch than expected.
Cole and Crowder are no longer in New York. Last year they accounted for 37.2% of wide receiver snaps on passing plays and 33.6% of targets. While the lion's share of those snaps and targets will go the Moore and Davis, Wilson should find enough opportunity to have an impact in 2022.
A year to forget for a former Baylor Bear.
After showing flashes of becoming a top target during his rookie year most expect Denzel Mims to take a big leap during his sophomore campaign in 2021. That did not happen. Mims started the season with a case of food poisoning that caused him to lose weight in the preseason. Then Mims could not get on the field due to an inability to learn the entire playbook. The second-year pro was inactive in weeks two and three. When he was active, he was wildly ineffective, finishing his season with just eight catches for 133 yards. Mims also racked up five penalties in his limited time on the field.
Mims has a tough road to playing time in 2022. Davis, Moore, and Wilson all look to be in his way. If Mims has a good preseason, he could be a trade candidate.
2022 Outlook
The Jets' 2022 receiving core is beaming with potential. They are young and talented. Health and Zach Wilson's continued development will go hand in hand with how this group performs. Moore should take over the role as WR1. Garrett Wilson is likely to have some rookie bumps but the recent seasons of rookie wideouts like Jefferson and Ja'Marr Chase show that the jump from college to the NFL is not as hard as it used to be.